For the past 3 years, A Dining Diva has been hosting fun and interactive seasonal cocktail classes in unique locations throughout Atlanta. Even though times have changed, that does not mean an end to the fun. A Dining Diva is going virtual! Our famous cocktail classes can now be experienced in the comfort of your home.
These classes are perfect for date nights, happy hour groups, meeting new people, corporate team building, or linking up with friends and family. Our virtual classroom is the best way to practice social distancing while still enjoying a social life and learning a new skill.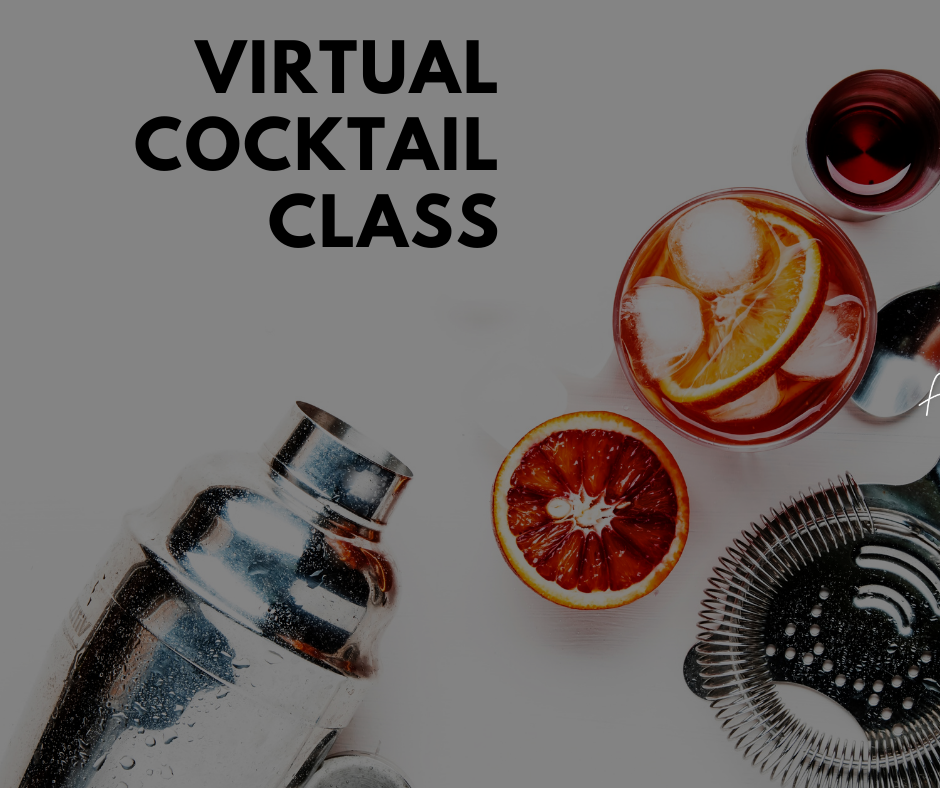 WHAT TO EXPECT
During the 1.5-hour virtual class we will explore cocktails, some "seemingly familiar" and some not-so-familiar as we make 3 delicious drinks in this fun, educational, and interactive classes! Nicky, aka The Diva, will talk you through each cocktail as if she were standing right in front of you.
Each beverage will use only one base spirit, so you will not need to worry about spending money on less-commonly used bottles. The goal is to get the most mileage out of your home bar and feel confident in what you mix. The Diva will suggest spirits for the specific class that you are in, but these recipes are designed to allow you to use any spirit you like!
HOW IT WORKS
Book your public or private class.
You will receive a welcome email within 24 hours with a list of ingredients to purchase (as needed) for your chosen class.
Buy your ideal spirit(s)! We will have suggestions based on your class, but feel free to use what you know you already like. There will be option for non-alcoholic spirits as well.
On the day of your class, you will receive an email with a link to the virtual classroom on Zoom.
Find a place in your house to set up and get ready to mix!
TOOLS REQUIRED:
Shaker (We're in quarantine so even a protein shake mixer-bottle can work in a pinch!)
Hawthorne strainer (the one with three or four springs)
Muddler
Spoon

Should you like to invest in new bar tools, please make sure to add the bar kit to your shopping cart by clicking here
All Class times are scheduled in EST.
CURRENT PUBLIC CLASSES ($25 per person/per class*)
Holiday Cocktails Class In December
• It's that time of year! Here, we look at two extremely versatile cocktail structures using holiday flavors of cranberry, rosemary, pumpkin spice, and more!
Whiskey Cocktails Class Available In February
• Explore whiskey/bourbon with vastly different cocktail structures such as the Mint Julep to a Whiskey Sour
Tequila Cocktails Class Available In May
• Do not get us wrong—we still love a margarita, but there is no reason for your tequila journey to end with lime and a salt rim.
Caribbean + Rum Cocktails Class Available In August
• Discover the vast, beautiful world of rum and tropical flavors. These are a far cry from the faux-tiki "over-the-top-sugary" cocktails many of us have come to know.
Vodka Cocktails Class In October
• Pretty much anything goes with vodka! You have fruity vodka cocktails like the Bay Breeze, classy ones like the Gimlet and Cosmo, spicy ones like the Bloody Mary, and bubbly ones like the Vodka Tonic.
Classic Cocktails Class In November
• These historic recipes, in their exact or modified form, are once again being seen on menus and for good reason: they are delicious and versatile!
*PLEASE NOTE: 2 PERSON MINIMUM PER CLASS IS REQUIRED
VIRTUAL PRIVATE CLASSES:
CURRENT PRIVATE CLASSES ($30 per person/per class*)
Your private reservation allows you to choose which of these seven lessons you would like to explore! Email diva@adiningdiva.com to schedule.
Caribbean + Rum Cocktails
Bourbon Cocktails
Vodka Cocktails
Tequila Cocktails
Classic Cocktails
Seasonal Cocktails
Brunch Cocktail
*PLEASE NOTE: 6 PERSON MINIMUM PER CLASS