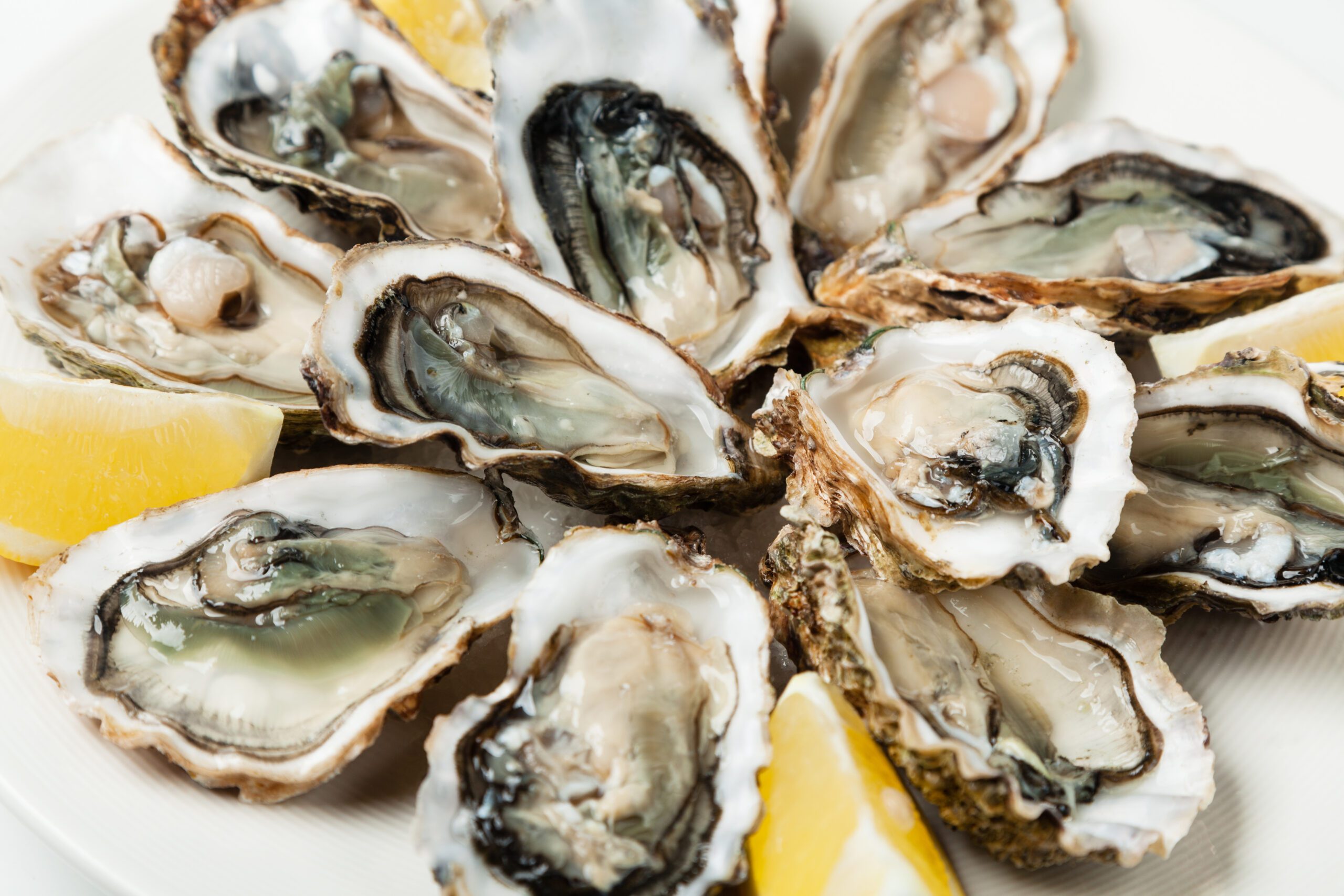 Are you team "cooked" or team "raw" when it comes to these delightful treasures from the sea? Some people love to just like to dose them in lemon and juice and knock them back like tiny briny shots of bliss! While this method is all well and good, but frying, grilling, or stewing oysters takes them to a whole other dimension. 
Whether you're team raw or not, these oyster recipes will help your mollusks shine bright like the ocean jewels they are.
Oysters with Finger Lime and Ginger Mignonette
6 Servings
1 tablespoon fresh lime juice
1 tablespoon rice bran oil
1 tablespoon unseasoned rice vinegar
1 teaspoon soy sauce
½ teaspoon finely grated peeled ginger
Small pinch of sugar
1 finger lime, halved lengthwise, or ½ lime, white pith and peel removed, finely chopped
12 oysters, freshly shucked
Combine lime juice, oil, vinegar, soy sauce, ginger, and sugar in a small bowl. Scrape out pearls from finger lime and stir into vinaigrette. Spoon over oysters just before serving.
Spicy Butter and Herb Baked Oysters
4 Servings
1 dozen fresh oysters, in the shell
2 cups rock salt or uncooked rice, for lining the pan
1 stick (8 tablespoons) salted butter, softened, divided
2 tablespoons finely chopped chives
1½ teaspoons lemon zest, divided
1 pinch of sweet paprika
1 pinch of cayenne pepper
¼ tablespoon of salt
¼ teaspoon chili flakes (optional)
½-1 teaspoon hot sauce according to taste, plus more for serving
¾ cup seasoned panko breadcrumbs
1 garlic clove, peeled and minced
½ cup grated parmesan cheese
Fresh chopped parsley for serving
Lemon wedges or slices for serving
Preheat the oven to 425°F. Add a layer of rock salt to a rimmed baking sheet or substitute dry, uncooked rice or a cooling rack that fits into baking sheet which will help keep oyster shells stable.
Shuck oysters: Run the knife along the bottom of the inside of the shell to loosen the oyster. Discard the top shells and arrange the oysters with their liquid in the prepared baking sheet.
Mix butter, chives, hot sauce, paprika, cayenne, salt, chili flakes if using, and 1 teaspoon of zest together in a small bowl and set aside.
Heat a medium pan over medium heat, add remaining 4 tablespoons of butter, the panko breadcrumbs, garlic, remaining ½ teaspoon lemon zest. Cook, stirring often until crispy and golden brown, 3–4 minutes. Fold in the parmesan cheese and mix well. Set aside.
Top each oyster with a teaspoon of the butter mixture and then sprinkle each one generously with the buttered panko crumbs.
Bake the oysters in the preheated oven for about 8 to 10 minutes, or until the oysters are cooked through and the topping is golden brown.
Sprinkle with fresh chopped parsley and serve with lemon wedges and extra hot sauce.